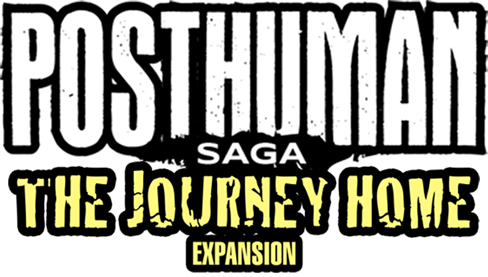 In Posthuman Saga: The Journey Home, you've already been deep into the mutant heartland, further than anyone from the Resistance has been in years. You've seen cruelty, horrors and tragedies that will stay with you for the rest of your days. It's time to go back home: to the Fortress. It'll be a long journey, taking you through hostile territories. Along the way, you'll gather intel for the Resistance, help new allies, and fight new foes, while garnering even more renown while making it back to the Fortress' gates.
* Requires Posthuman Saga base game to play.


The Journey Home is the second expansion for Posthuman Saga. The expansion adds new characters, stories, and scoring mechanics to the base game. Step up Posthuman Saga with a more tactical, more competitive experience through the Journey Home Expansion.
Complete objectives with New Explorer Cards that replace the standard mission cards and new Cartographer Cards that determine your starting setup.
Earn points by exploring a map made up of modular tiles and completing Mission Objectives before other players do.
Experience the world through 30 new story encounters and engage your enemies in combat!
Take on the fight alone in an expanded solo mode!