Nights of Fire: Battle for Budapest


A sequel to Days of Ire
After the successful uprising of 23rd October 1956, freedom and peace seemed at hand. But the hard earned victory was not to last: On November 3rd 1956 the Soviets arrest the Hungarian delegation negotiating for the country's sovereignty and order their troops to push towards Budapest. During the early hours of the next morning the city wakes up to sounds of tank and artillery fire. The Soviet counter-attack, codenamed Operation Whirlwind has begun.
What is Nights of Fire?
Relive the desperate fight of the few thousand lightly armed insurgents as they face the Red Army commanded by Marshal Konev in this historically inspired card-driven board game playable by 1-3 players.
It can be played solo, cooperatively by 2 players, or by 1-2 players against a live opponent in charge of the Soviet troops.
The Revolutionary players will utilise their insurgents in a block-wargame-like fashion, manage their dwindling resources, and try to stay alive. Their options are represented by cards illustrated by our returning artist Katalin Nimmerfoh, and packaged up with a beautiful cover illustrated by the amazing Kwanchai Moriya.
Designed by Brian Train (best known for his work on GMT Games' COIN series, including A Distant Plain and Colonial Twilight) and David Turczi (co-designer of the original Days of Ire: Budapest 1956 game, also known for other hits as Anachrony, Kitchen Rush, and many more). The game is brought to you by Mighty Boards' team, who are already behind such successes as Petrichor and Vengeance.
While directly connected in theme to Days of Ire, Nights of Fire is a game on its own. It uses completely different mechanisms (hidden block movement for the Hungarian and Hand Building for the Soviet side). Days of Ire not required to play. However, an add-on pack, Days & Nights: Red Army Pack, will contain rules and cards for campaign play of both games in sequence, a deck expansion for Nights of Fire, and 28 miniatures usable in both games.
What's Inside the Box?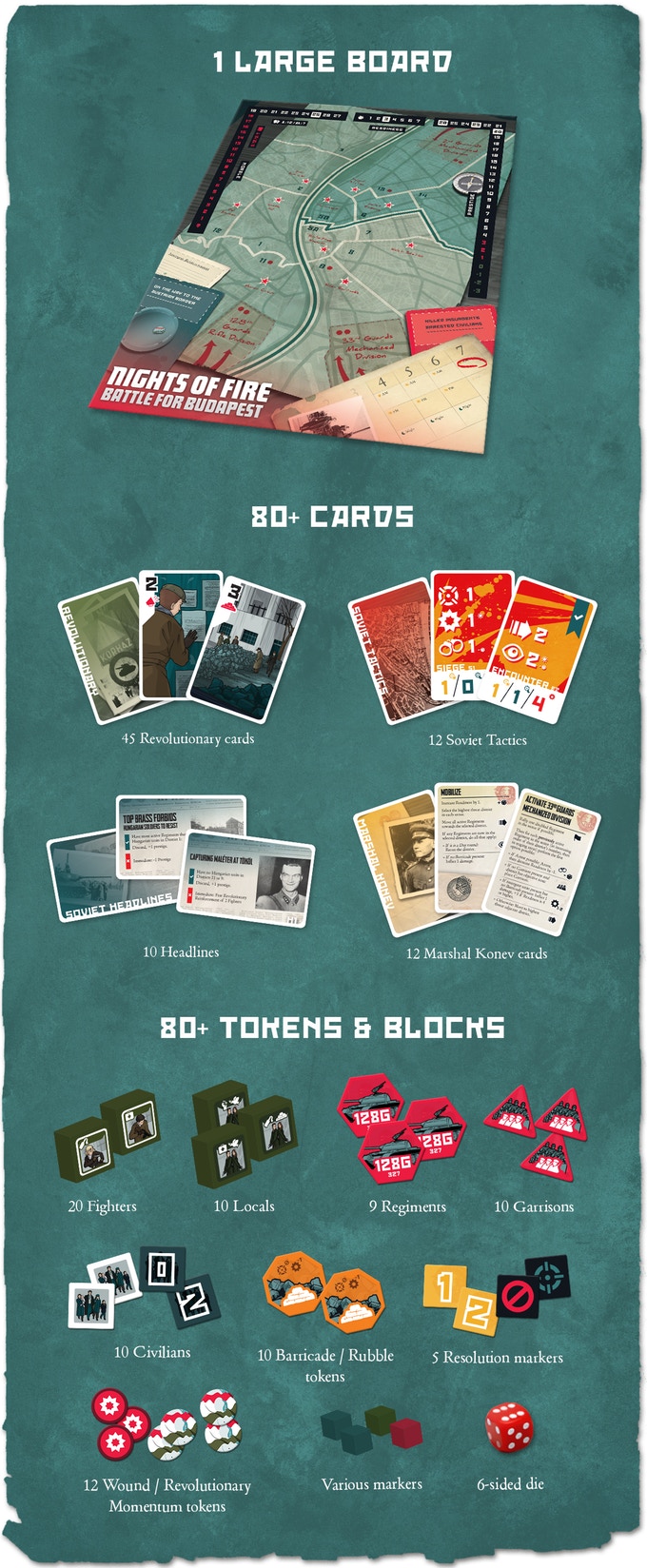 As an additional thank you for supporting the creation of Nights of Fire, every backer at least at the Insurgent level will receive "Yuri and Noel", two new special fighters to be used in any game of Days of Ire!
What is the Red Army Pack?
Days & Nights: Red Army Pack is an add-on pack that contains 28 miniatures compatible with both Days of Ire and Nights of Fire. It also contains a small deck expansion to Nights of Fire, and an additional deck allowing campaign play.
In Campaign mode you can play a game of Days of Ire followed by a game of Nights of Fire (solo, cooperative, or conflict mode up to 1v2 supported), and have the winner decided only at the end!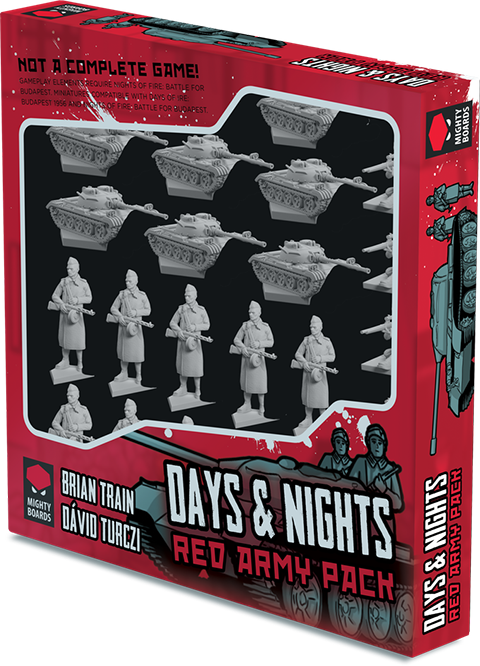 Experience the entire epic story of the Revolution from the first sparks to the last breath! Note: some stretch goals might have "Days & Nights only" icon next to them, those are only added to Days & Nights: Red Army Pack, and will be only given to backers at the Leader or Combined Leader levels.
What's to Like?
Continue the epic story started in Days of Ire to a dramatic conclusion.
Experience an introductory wargame with the mind of a euro-game that will take you 90 minutes or less to play!
Engaging Solo play — A solo mode designed to emulate the struggle of playing against the live opponent, from the creator of Anachrony's Chronobot!
Unique, unexplored theme — The insurgents cannot win militarily, yet they must resist the Soviet machine as long as they can to show the world it is possible to defy repression.
Exciting for history enthusiasts and curious players alike. Beautiful, engaging art — We'll just let the pictures speak for themselves on this one.
Crew & Credits